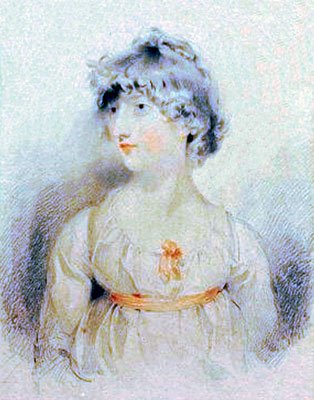 Misse Semple by Thomas Lawrence
in a white dress and red sash and bow
I tried to find out more about Miss Semple.
This portrait above, whose reproduction was found on the Web, probably represents her.
Indeed it was done by Thomas Lawrence (England, 1769-1830), who seems to be a contemporary of Miss Semple since his drawings were published in 1817.
Another reference to this name is found in a piano score (Headings - Variations)
dedicated in 1818-1820 to Miss Semple by the composer James F. Hance.
We can therefore assume that at the time this young woman belonged to the artistic or literary circles of 'London's good society'.
His 'Dutch' portraits are in any case very lively and stand out for their authenticity, illustrations of the costumes and customs of the various peoples of the world, such as those published at the time.
The book is presented as containing costumes from the Netherlands. However, a good ten of the characters drawn come from Belgium or Northern France (Valenciennes). It must be said that at that time, Holland did not cover the borders as we know them in this twenty-first century.
On this site you will find 3 versions of this book: the one in French and English, as it originally existed (but on separate pages) plus the same translated into Dutch, to make it easier for Dutch people to find these traces of their past.
Here is the introduction to the book :
The following Drawings, being correct representations of the Costumes of the Netherlands, (each subject having been sketched from Nature) may be found interesting at this time when British valor has made that part of the continent familiar to the Public.
Here are the 30 drawings and pages that make up this book
For each thumbnail, the place where the live drawing was made is indicated.